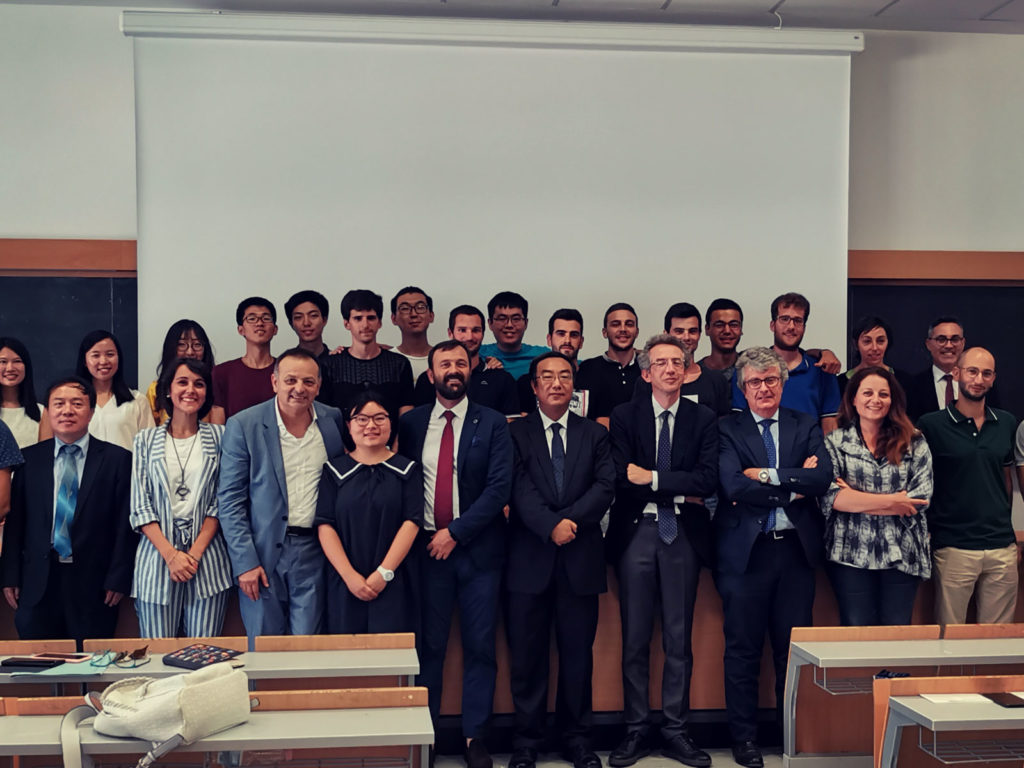 The China-Italy Joint Laboratory on Advanced Manufacturing (CI-LAM), the bilateral cooperation platform on advanced manufacturing
The China-Italy Joint Laboratory on Advanced Manufacturing (CI-LAM) is a bilateral platform established in 2017 for the promotion of research and development in the field of advanced manufacturing between Italy and China. Through the platform, researchers, students and working groups of partner universities perform joint research activities supporting stakeholders of the innovation ecosystem of both countries. In addition, CI-LAM promotes training, exchange and mobility programs for students, academics and professionals.
On the Italian side, the cooperation platform is promoted by the University of Naples Federico II, the University of Bergamo, Campania NewSteel (one of the main Italian Incubators), in collaboration with SPICI. On the Chinese side, the promoters of CI-LAM are Tsinghua University and the China Sci-Tech Automation Alliance.

Thanks to the activities carried out over the years, CI-LAM has been recognized as the main strategic bilateral platform on advanced manufacturing within the "Italy-China Scientific and Technological Cooperation, Action Plan towards 2025" of the Italian Ministry of Foreign Affairs and International Cooperation.
PAST ACTIVITIES
The activities of CI-LAM have so far focused on training through the organization of a study visit between Naples and Bergamo in 2018 and the first edition of the Summer School which was held in Naples last July 2019 and to which 22 young Italian talents and Chinese worked on collaborative projects in the field of advanced manufacturing.

The two intensive weeks of the Summer School were divided into over 100 hours of training, laboratory activities and seminars on technology transfer and intellectual property rights. The learning modules covered topics such as: Robotics and industrial automation, Digital system for industry, Web Technologies for industrial applications, PLC programming for industrial automation, and Design of mechatronic systems.
ACTIVITIES PLANNED FOR 2020
The CI-LAM Academy was inaugurated on 3 June 2020 in the presence of the Italian Minister of University and Research, Prof. Gaetano Manfredi and the Chinese Minister of Science and Technology, Prof. Wang Zhigang.

Due to the Covid-19 emergency, the original training program has been digitalized and extended. The training, innovation and matchmaking activities scheduled between June and August 2020 will be held online with a particular focus on topics related to industry 4.0 (Manufacturing system, Energy, Predictive maintenance, AI and Big Data, Robotics, Cybersecurity, DC connections Grid and 5G).

In particular, the CI-LAM Academy will organize a series of Innovation Webinars addressed to professionals, researchers, managers and academics as well as the second edition of the CI-LAM Summer School, which will be opened to about 100 students, graduates and doctoral students and which will provide future research directions on the key technologies in the field of advanced manufacturing.
Activities are already underway.
For more information: www.cilam.org