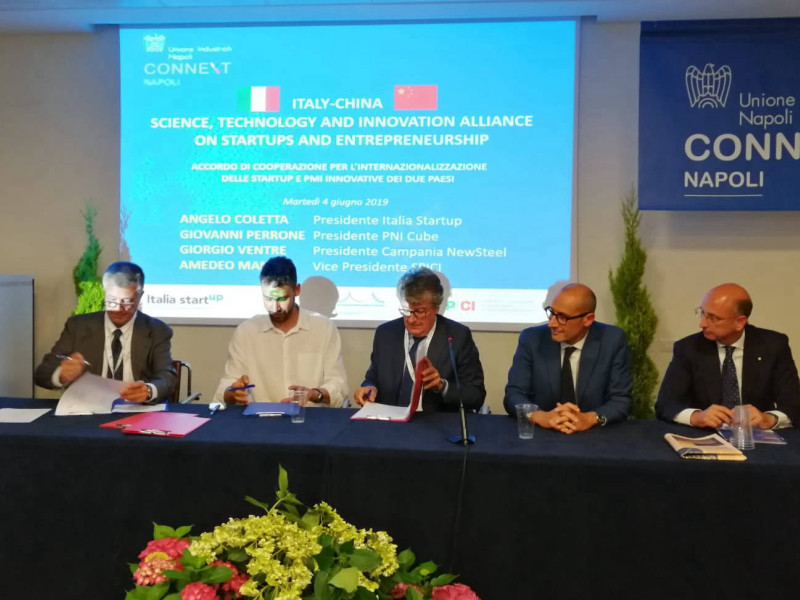 "Italy-China Science, Technology and Innovation Alliance on Startups and Entrepreneurship", the network promoting internationalization as well as technological and scientific cooperation between Italy and China
The theme of the internationalization of Italian startups and innovative SMEs is crucial for the future of our country. During the visit of Chinese President Xi Jinping in Italy in March 2019, the attention of the People's Republic of China towards Italy increased significantly. Starting from an institutional framework with the two governments at the forefront and the new role of the Ministry of Economic Development, Italy has strengthened its action to encourage the internationalization of the Italian ecosystem towards China.
In this context, the agreement "Italy-China Science, Technology and Innovation Alliance on Startups and Entrepreneurship" was signed on 4 June 2019. The network aims to gather players of the national innovation ecosystem, strengthen the internationalization of startups and SMEs in China and foster the attraction of Chinese startups and investments in Italy.
The promoters of the Alliance are PNI Cube (the association that brings together Italian incubators and academic business plan competitions), Italia Startup (the association for Italian startups), Campania NewSteel (the certified incubator of Southern Italy promoted by the University of Naples Federico II and Città della Scienza) as well as SPICI.
In particular, the activities of the "Italy-China Science, Technology and Innovation Alliance on Startups and Entrepreneurship" consist in fostering innovation capabilities, technology transfer and the industrialization of companies, universities and research centers of the two countries through joint projects and agreements.
In addition to promoting advanced training and the exchange of researchers and entrepreneurs, the network connects Italian and Chinese companies with investors, companies, government administrations and research institutions of the two countries through the organization of events, matchmaking meetings and soft-landing programs in Italy and China.
The first event promoted by the Alliance took place on July 10, 2019 in Naples with the aim of presenting the strategies and opportunities of the internationalization of Italian and Chinese innovative companies along the new Silk Road.
The event was attended by 15 startups from all over Italy interested in internationalizing towards China. The participants had the opportunity to meet the Science Counsellor of the Chinese Embassy in Italy, Sun Chengyong.
Numerous other activities were organized by the Alliance in 2019 and in the first months of 2020 with the goal of connecting the Italian and Chinese innovation ecosystem.