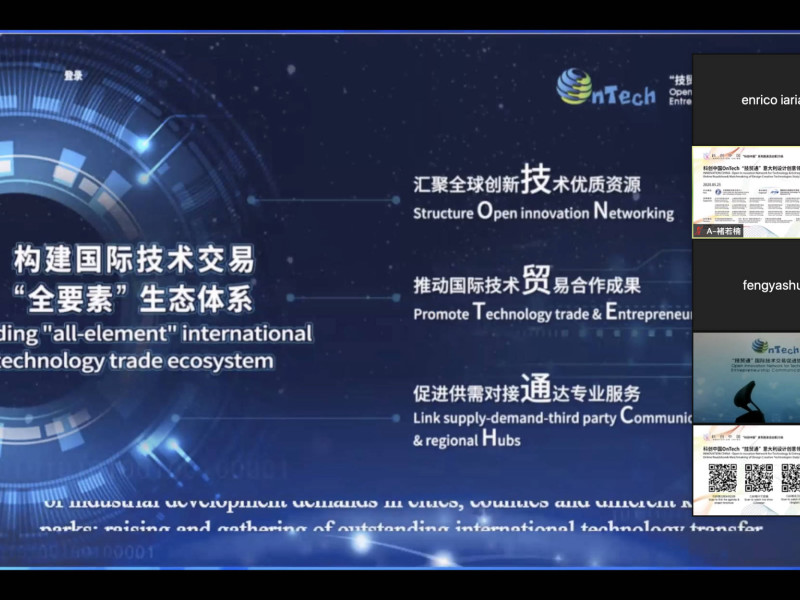 OnTech, the new program for internationalization and cooperation
Despite the slowdown of the economy, innovation Made in Italy is coming back online with a new internationalization and cooperation program for Italian and foreign companies interested in China.
OnTech, the program that has so far involved 21 companies from 6 countries, including about 10 Italian innovative companies, is a series of online matchmaking meetings. The first sessions reached an audience of over 110,000 participants between investors, multinational companies, research and development centers, experts and government participants. Participating countries include China, the United States, Germany, Russia, Israel, the Netherlands, as well as Italy.
The program is promoted by CAST, the Chinese Association for Science and Technology, and organized by the International Technology Transfer Network (ITTN), while on the Italian side, the platform is coordinated by SPICI with the support of the members of the China-Italy Science, Technology and Innovation Alliance – the network promoted by Italia Startup, PNI Cube, SPICI, Campania NewSteel, for the promotion of the internationalization of the Italian innovation ecosystem in China – and in collaboration with Smart Italia – the association that involves Italian startups and innovative SMEs abroad.

OnTech has involved startups, spinoffs and SMEs interested in expanding business opportunities with China in the areas of Innovative Technology against COVID-19, Digital Innovative Technologies, Creative Industries and Design. After presenting their process and product innovations, the companies participated in a series of online matchmaking meetings, laying the foundations for further collaborations.

Three sessions of the program have already taken place online including:

• "Innovative innovative technologies against to fight COVID-19" was held on March 21, 2020. American startups presented their projects to an audience of over 20,000 experts via the Zoom and Guangming platforms.

• "Innovative Digital Technologies", on April 22, involved startups from several countries including Italy, Germany, Russia, Israel, the Netherlands. The selected projects focused on digital innovation in areas such as computer security, artificial intelligence, agricultural trade systems, augmented reality and virtual reality. 50,000 experts joined the online event.

• "Creative and Design Industries", on May 25, targeted Italian startups in the fields of industry production design, ship industry design, intelligent device design, automotive industrial design, intelligent building design, fashion design. Over 40,000 experts and professionals attended the online event.

The selected Italian companies were:

• 221e, a pioneering tech company in the field of wearable IoT systems that develops integrated multi-sensors for innovative smart products.

• Lumi Industries, which created additive manufacturing devices for professionals in the field of dentistry.

• NC Design, develops high-tech integrated engineering and architecture solutions aimed at protecting against natural disasters.

• Tripper App, an innovative company in the multimedia sector that uses 5G to offer technological solutions and immersive experiences.

• Digital Green, a software company that has created the first online platform for the remote management of agri-food companies and the commercialization of their products on international markets.

• Experenti, a startup that offers Augmented Reality, Virtual Reality and Mixed Reality solutions for the B2B market.

• Inesse Corporation, develops innovative high-tech boats for a smart and sustainable approach to navigation.

• Ventuno, startup producing an eco-friendly Experience Box that offers a virtual tour of Italy.

Several guests and experts joined the three sessions, including Zhang Wenzhi, Vice President of Digital Government Business at Huawei, Zhang Jian, Vice Secretary General of the Cybersecurity Association of China, Ji Tongkai, Director of the Cloud Computing Center at the Chinese Academy of Sciences, Li Jun, President of Beihang Tianhui Incubator, BUAA Science Park, Wen Junlei, Managing Partner at Qingyan New Generation Intelligence Artificial Intelligence Industry Fund, Chen Xinlong, Chairman & General Manager, Zhongxin Tengda (Beijing), Zhao Chao, Vice Dean of the Academy of Fine Arts and Design of Tsinghua University, Fu Zhiyong, Vice Deputy Director of Tsinghua University China-Italy Design Innovation Hub, Zhang Bin, Managing Director at Emerge Capital Partners Limited.