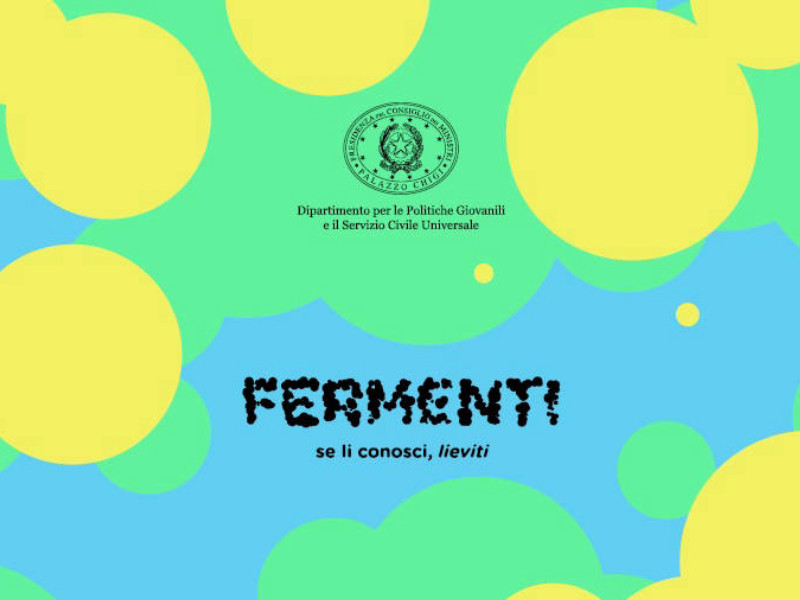 FERMENTI 2020: the national program to promote and support ideas, projects and initiatives involving young talents and social challenges identified as priorities for the communities
FERMENTI is a program launched by the Italian Presidency of the Council of Ministers and managed by the Department for youth policies and the Universal Civil Service, in synergy with Campania NewSteel, and with the support of SPICI, to encourage youth entrepreneurship and facilitate the development of projects with a social vocation, offering technical and financial support to initiatives aimed at improving the living conditions of the community as a whole.
In particular, with the aim of strengthening the skills of young people in transforming their ideas into executive projects, the 2020 edition of FERMENTI intends to support innovative ideas capable of effectively responding to the five social challenges identified as priorities for the communities: Equality for all genders; Inclusion and participation; Training and culture; Spaces, environment and territory; Autonomy, welfare, well-being and health. In addition, FERMENTI 2020 aimed at bringing new opportunities for inclusive participation in the economic, social and democratic life for young people, also in order to promote the development and growth of the country's territories and, above all, those territories characterized by fewer opportunities for young people, through the facilitation of projects with a social vocation.

Within this framework SPICI, supporting Campania NewSteel, coordinated and supervised part of the acceleration sessions, through intensive one-to-one remote training, orientation and tutoring activities, in order to provide the necessary tools for the preparation of project proposals and for the elaboration of executive projects.

Specifically, in the phase of preliminary to executive planning, SPICI has supported Campania NewSteel and the 151 of the young proposers with:
dedicated and personalized support for the selected proposers, taking into account the needs of the individual projects and the various critical issues encountered in the drafting of the executive planning;
remote learning services through the selection and involvement of qualified experts;
webinars and case studies with successful entrepreneurs, in order to explore different testimonials and best practices;
remote one-to-one tutoring services to improve individual projects.
Following the publication of the final rankings, SPICI will continue to collaborate with Campania NewSteel, providing its support in the organization of other activities and in the management of the final acceleration program, with the aim of facilitating the networking, promoting project sharing and creating new synergies and opportunities for all the participants. The next phase scheduled for September 2020 will serve to further develop the projects and accompanying the teams from the executive planning phase to the subsequent operational implementation phase of the activities.

For further info:www.fermenti.gov.it