SPICI, as a member of the Campania Region delegation at Expo Dubai, visited the University of Dubai (UD), which hosts talented students and teachers from all over the world, with its Department of Engineering and Information Technology and the Cybersecurity and Data Science laboratories.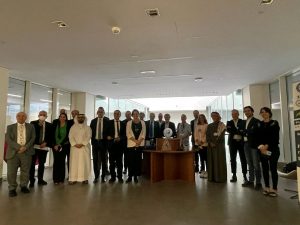 The meeting was attended by the President & CEO, Dr. Eesa M. Bastaki, who illustrated all the activities of the prestigious university and the Dean of the Department, Prof. Wathiq Mansoor, guided us to visit the laboratories.
The University is one of the best accredited universities in the United Arab Emirates and offers programs in: engineering, information technology, business administration, law, PhDs and much more.
The Vision and Mission 2017-2022 are guided by three pillars: Innovation, Global Academic Perspective and Building Character and Leadership, in fact:
the strategic Vision foresees the positioning of UD among the top 100 universities before 2035 and the Dubai Business School will be ranked among the top 100 business schools in the world by 2025
the Mission, on the other hand, intends to meet the educational needs of various undergraduates and leaders, involving all students in research activities, mainly on the economic development of the Middle East and Africa (MEA) region
The University has agreements and partnerships with others in the United States and Europe: this improve the exchange between faculty and students, create internship opportunities, promote collaborative research and conferences, providing high quality education, also from an international perspective.
In addition, the Entrepreneurship and Innovation Free Zone (EIFZ), established by the University of Dubai, is a research and consulting platform that works with the Center for Information Convergence & Strategy (CICS) of San Diego State University, to support the academic entrepreneurship through various stages of the innovation process.