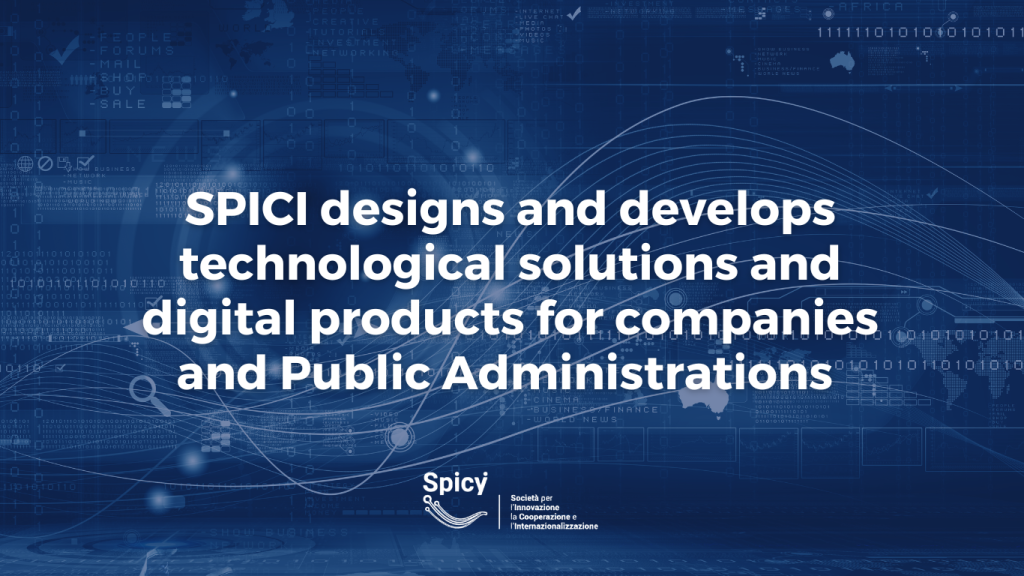 SPICI designs and develops technological solutions and digital products for companies and Public Administrations (PA).
The company mainly operates in the sectors related to Cultural and Creative Industries and the Green Transition, with a specific focus on Digital economy, Data Science, Artificial Intelligence and Machine Learning, Cloud computing, Cybersecurity, IoT.
As a tech hub, it offers consulting services on issues related to digital transformation to its private and public clients.
SPICI carries out research projects in synergy with universities and research centers and pays particular attention to the topics of interoperability and reuse of digital solutions.
The company is leading an ambitious project aimed at developing a proprietary platform – Tech Hub – leveraging Artificial Intelligence, for the provision of advanced matchmaking services, internationalization and for digital transformation support.
Finally, SPICI designs and promotes advanced training programs and initiatives (academies) in the field of digital education. Acting in partnership with national and international academic institutions, research centers and companies, SPICI aims to train professionals specializing in the development and use of innovative solutions.
Digital transformation consulting services include:
Support in the

development of strategic plans for the digital transformation of cities

;

Support in the definition and implementation of digital transformation programs and projects

, through the following phases:

Services of app development and customized digital solutions include the design and implementation of:
apps for iOS and Android;

web apps for mobile and browser;

AI and machine learning systems (e.g. reccomendation systems, forecasting, sentiment analysis, etc.);

Videogaming for mobile, desktop and web;

Customised digital systems/solutions for SMEs and PA;

Digital communication applications/products (multimedia and/or interactive brochures and catalogues, corporate videos, etc.).
For Public Administration, we offer support services in the following fields:
Migration to the Cloud;
Integration with PagoPA system;
Integration with API APP IO;
Web portals for citizens with SPID access.
The TECH HUB proprietary platform
SPICI is also developing a proprietary technological platform which, through the use of artificial intelligence algorithms, will optimize the process of resources matching between companies, universities and research centers.
The platform will also provide a series of remote services to support the internationalization process of startups and small and medium-sized enterprises.
Find out more about the Tech Hub platform by clicking here!