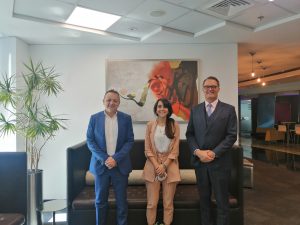 SPICI visited the DTEC – Dubai Technology Entrepreneur Campus, located in the Dubai Silicon Oasis, as part of the "SPICI goes to Expo Dubai" project.
This time SPICI was welcomed by Vice President Hans Henrik Christensen (Senior Director) who illustrated all the interesting activities carried out by the center.
DTEC is an integrated entrepreneurial ecosystem that provides the largest coworking spaces in the Middle East, assistance with the incorporation and registration of companies in Dubai and participation in events.
DTEC is the ideal space for tech startups and entrepreneurs looking for a supportive community from which to start their new business: a large technological innovation hub in the MENA region, for hundreds of startups, SMEs and entrepreneurs from all over the world.
The camp has been awarded for its support to startups and SMEs in the Islamic digital economy, and has 2 important corporate partner labs, the Intel Innovation Center and the HP Innovation Garage.
SANDBOX is the start-up program focused on early-stage technology entrepreneurs, while DTEC Ventures is the venture capital fund of the Dubai Silicon Oasis Authority and part of DTEC center.